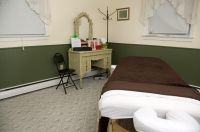 Dear Visitor, welcome to my studio! I am located in the heart of Willow Grove and if you're looking for a professional massage therapist, you've come to the right place!
Due to the pandemic, I have updated equipment, cleaning protocols and PPE. I am vaccinated with booster and as the provider, I still wear a mask. For clients not possessing antibodies, such as two weeks past terminal Covid-19 vaccination dose, a mask is required. Otherwise, the option is yours.
I am trained in a variety of modalities, and you can click on the "Services & Rates" page to learn more about the various techniques I use in my work.
Also, if you'd like to set up an appointment with me, click on "Contact Me" and send me a message. BE SURE TO ASK ABOUT ANY NEW CLIENT SPECIALS I HAVE GOING! I will call you back to confirm the details of your appointment, and also answer any questions you might have.
Thanks for visiting, and have a great day! - Marie Higgins, LMT, Lic. #MSG000877